Platinums:
727.69P
In character awards
Out of character awards
Joining Fee (+20 points) *Joined LOT with the first account!

Magic & Elementals Applied Tokens Collected Currency
1,000 EMPIRE COINS

1,000 EONIX BRONZES


No tokens!


None None

Profile Type: IC Character Slots: 3 paid slots Title:





PVP: Optional PVE:

Chaotic Neutral

Mutations:

No Mutations Present —


Main Account:n/a OOC Account:n/a Other Characters:Mercy


Rhu Neron is a 3 years old Female who belongs in Slums group. Their homeland is Eonix and they were born during the Summer season, they were born with Sectoral heterochromia eyes and Blue skin. They belong to none
and they work as a Warrior
in the group


This character is currently,

Offline

.

Played By: Taske Contact: Private Message Audition: click

(Find All Posts) (Find All Threads)


My Story book can be read Here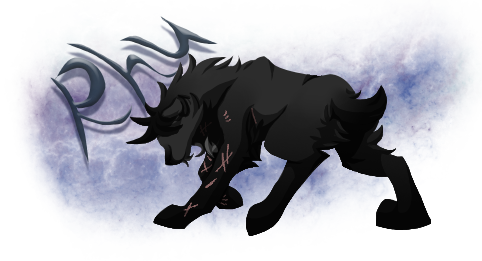 Blue like her mother with a light blue spot on her chest. She has amber eyes but the gold from her father surrounds her pupils. Also like her father she has small strips below both eyes. But unlike both her parents her blue pelt is broken up in the legs tail and on her nose by faded black as if darkness is taking over her fur, starting with the tips.
She grew up watching her mothers quite watchfulness she was able to pick the way the stoic matriarch barring. She emulates the way the older female holds herself with bland interest. Though not as dominant in nature she may still become a natural leader.
After years away from her birth place new scars adorn her pelt, a match to the ones her mother carried but also a large mass of cross scars across her chest and front legs and up her neck.
watchful, loyal, stoic, strong minded, resentful
Born to Takira "Taske" Neron and Jackol "Jack" Black with siblings Ticia and Locke In August and life had been great. Days spent playing and exploring only broken up when her mother took her and her siblings out... But the peaceful days where not meant to be... Her mother fought with packs leader and the small family went on the run... Ticia disappeared with Locke soon after... Leaving Rhu and her mother to find a new home... They soon found themselves on the doorstep of Takira's friend... But it was too late... Takira was sick... Maybe had been sick for a long time...
Life was not easy on her after her mothers death, it seemed like everything just went from bad to worse and no one seemed to even care... And so one day she just... left, with no words to the few who she would leave behind... She lived in Darkness for a long time, letting bitterness and hurt fuel her but recently she has felt a shift in her, a peace fall over her and a deep pull back to where she started... She wasn't sure what she would find back home, but... she was willing to look, and maybe just maybe put hurt feelings behind her...
This user has not filled out their Profile information and or currently has not been in any fights within their life on the site.
This character currently has no companions attached to their profiles.